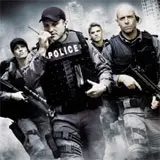 Just released on DVD from CBS Home Entertainment is the tactical rescue unit show Flashpoint: Season One. I have one of these new DVD box sets based on the efforts of Toronto's Emergency Task Force to hand over to one lucky reader.
For a chance to win, fill out and send in the completed entry form below. Feel free to return and enter again once per day as long as the contest is active.
Flashpoint is a drama which depicts the emotional journey into the tough, risk-filled lives of a group of cops in the SRU (inspired by Toronto's Emergency Task Force). It's a unique unit that rescues hostages, busts gangs, defuses bombs, climbs the sides of buildings and talks down suicidal teens. Members of a highly-skilled tactical team, they're also trained in negotiating, profiling and getting inside the suspect's head to diffuse the situation to try and save lives.