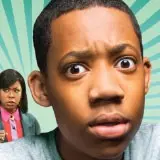 Up for grabs in this daily entry contest are three sets of the fourth and final season of Paramount's Everybody Hates Chris television show.
Entering for a chance to win one is accomplished by sending in the completed form below. Optionally you are encouraged to return any or every day the contest is running to enter again.
Inspired by his childhood experiences, comedian Chris Rock narrates the hilarious, touching story of a teenager growing up as the eldest of three children in Brooklyn, New York during the early 1980s. Uprooted to a new neighborhood and bused into a predominantly white middle school two hours away by his strict, hard-working parents, Chris struggles to find his place while keeping his siblings in line at home and surmounting the challenges of junior high. This responsible, resilient adolescent brings a distinct, funny spin to his everyday trials and traumas in this single-camera comedy.