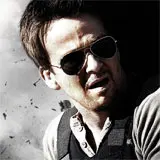 Robert Kurtzman's Deadly Impact will arrive on DVD April 20 and to go along with its debut, we have teamed up with MGM Home Entertainment to offer five of you a chance to have it delivered to your doorstep on us.
To enter the Deadly Impact contest, please fill out and submit your entry below. The odds of being chosen a winner can be increased each day you return to enter again for as long as the contest is running. Good luck!
When a police officer's life collides with a powerful assassin the result is lethal in Deadly Impact. Directed by special effects guru Robert Kurtzman, best known for his work in City Slickers and Cabin Fever, the film stars Sean Patrick Flanery (The Boondock Saints franchise) and Joe Pantoliano (The Sopranos, The Matrix franchise). In an explosive game of cat and mouse, Deadly Impact follows hard-nosed cop Thomas Armstrong (Flanery) whose life was shattered when he became the helpless target of a mastermind murderer. Returning home after a much-needed break, Armstrong joins the FBI to seek revenge and help track down the same killer that threatened his existence, however this time the assassin is back to terrorize not just a single person, but the entire city. In an exhilarating race against time, Armstrong must stay one step ahead to capture the madman and save innocent lives before time runs out.