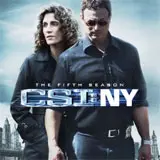 The fifth season of CSI: NY starring Gary Sinise has just been released onto DVD by CBS Home Entertainment and I have three of the multi-disc sets up for grabs in this contest.
You can take a shot at winning one by filling out and submitting the entry form below. Once done, you can optionally return any or any day after and enter again to increase your odds of winning each time. Good luck!
CSI: NY, the third incarnation of the CSI: Crime Scene Investigation franchise and the spin-off of CSI: Miami, is a crime drama about forensic investigators who use high-tech science to follow the evidence and solve crimes in The Big Apple.