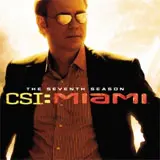 The seventh season of CSI: Miami is coming to DVD on September 15 courtesy of CBS Home Entertainment and we have three of the new box sets being given away in this contest.
For a chance to win one, fill out and send in the completed entry form below. You are encouraged to return any or every day thereafter and enter again to increase your odds of being picked a winner with each additional entry.
Join lead criminalist Horatio Caine (David Caruso) and his state-of-the-art forensics team as they investigate hot and steamy Miami crimes using cold hard facts.