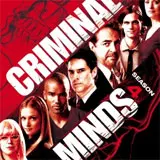 The fourth season of CBS' Criminal Minds television show starring Paget Brewster, A.J. Cook, Thomas Gibson, Matthew Gubler, Joe Mantegna, Shemar Moore and Kirsten Vangsness is making its way to DVD on September 8. We have three of the new box sets with over 18 hours of episodes in 5.1 surround sound up for grabs in this contest.
For a chance to win one, fill out and send in the completed form below. You are then encouraged to return any or every day the contest is active to enter again and increase your odds with each additional entry.
Criminal Minds revolves around an elite team of FBI profilers who analyze the country's most twisted criminal minds, anticipating their next moves before they strike again. The Behavioral Analysis Unit's most prominent agent is David Rossi (Mantegna), a founding member of the BAU, who returns to help the team solve new cases, while pursuing some unfinished business of his own. Each member brings his or her own area of expertise to the table as they pinpoint predators' motivations and identify their emotional triggers in the attempt to stop them.