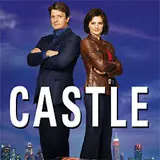 The first season of ABC's Castle starring Firefly's Nathan Fillion and Stana Katic is now available on DVD.
We have two of these new Castle: Season One DVD sets that will be given away to a pair of lucky readers. For a chance to win one, fill out and send in the completed entry form below. Return any or any day thereafter to enter again and increase the odds of being picked a winner with each additional entry.
Rick Castle is a world-famous crime novelist whose stories come to life when a copycat killer follows his literary blueprint. Enlisted to help the NYPD stay a step ahead of the murderer, Castle realizes working with the police can also supply him with a slew of ideas for his next book. The relationship gets a little more complicated — and a whole lot more fun — when he is paired with the attractive Detective Beckett, who doesn't appreciate Castle's unorthodox style. Experience every witty, suspense-filled moment of the original series in this 3-disc DVD collection. Packed with never-before-seen bonus features, including a behind-the-scenes peek at the cast.