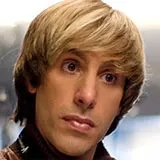 Sacha Baron Cohen's Bruno has arrived on DVD and Blu-ray Disc full of additional scenes not shown in theaters.
We have three sets of Bruno on DVD to be awarded to the winners of this daily entry contest. Fill out and submit the form below to enter. You can optionally then return any day thereafter to enter again and increase the odds of winning each time through when the contest closes.
Sacha Baron Cohen (the creator and star of Borat) returns to the big screen in the hilarious adventures of Austria's favorite fashionista, Brüno. In this gleefully anarchic mockumentary, the flamboyant television host loses his homeland talk show, "Funkyzeit," and does what any self-respecting wannabe would do-he moves to Hollywood to pursue worldwide super-stardom. From worlds of fashion and entertainment to the military, Brüno puts his worst foot forward as Baron Cohen fearlessly tramples the boundaries of good taste in ways that confound celebrities and just plain folks alike. Fans of Baron Cohen's gonzo comedy can look forward to an hour's worth of hysterical scenes not shown in theaters on both the DVD and Blu-ray versions.