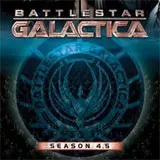 Today's Comic-Con panel lineup includes a Battlestar Galactica discussion to discuss what has happened before and what will happen in the future with The Plan and next year's Caprica show on SyFy.
For all you fans of "Frak" not able to attend the panel in San Diego, this contest is for you. I have up for grabs three sets of Universal's new Battlestar Galactica: Season 4.5 on DVD which includes the series finale and a wealth of new bonus features. For a chance to win one of them, fill out and send in the completed entry form below. Optionally, return any or every day and enter again to up the odds of winning each time.
All will be revealed as the thrilling final episodes of Battlestar Galactica 4.5 land on DVD. From their initial action-packed battles against the Cylons to their desperate attempts to find the fabled 13th colony, Earth, a determined band of human survivors has captivated audiences everywhere with their desperate quest to find a new home for their dwindling numbers. Join them now as the fleet journeys into the furthest reaches of unexplored space and faces a crucial decision that will change all of their lives irrevocably. Presented uninterrupted in Dolby Digital 5.1 Surround Sound, this epic 4-disc set contains over 10 hours of intense, groundbreaking DVD features, including extended episodes that never aired – a must own addition to every fan's collection.