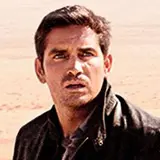 AMC's reimagining of The Prisoner is coming to DVD on March 23 and we are going to award five of you the complete miniseries in this contest.
To enter, please fill out and submit the entry form below. You can optionally return any or every day the contest is running to enter again and increase the odds of winning each time.
Nobody resigns from Summakor. Once he had a name, a job with the mysterious spy-ops outfit Summakor and a life in New York. Now he has a number. He's called 6, and everything has changed since he quit the many-tentacled agency. Suddenly he lives in The Village, a too-perfect paradise wretched with conformity. A society where all names are numbers. Where secret eyes watch over hollow bliss. Where dissent is rare and whispered. Where 6 knows he has one option: escape. Jim Caviezel portrays disoriented, determined 6 and Ian McKellen plays the serenely cunning Village overseer called 2 in a brilliantly reimagined, six-episode sci-fi riff on the Patrick McGoohan series of the 1960s. Are 6's experiences real? Happenings of a parallel universe? Imaginings of his own walled-in mind? Co-starring Ruth Wilson, Jamie Campbell-Bower, Hayley Atwell and Lennie James.