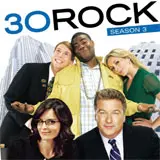 30 Rock is celebrating its back-to-back Best Comedy Series Emmy wins on the verge of season three being released on DVD September 22.
In case you missed the award-winning third season, I have three of the new 30 Rock: Season Three DVD box sets being given away in this contest. For a chance to win one, fill out and send in the completed entry form below. Returning any or every day thereafter to enter again will increase your odds of winning.
Primetime Emmy, Golden Globe and SAG Award winner (and show creator) Tina Fey and Primetime Emmy, Golden Globe and SAG Award winner Alec Baldwin star as corporate executive Jack Donaghy and TV writer Liz Lemon (reverse respectively). Together, Jack and Liz manage the workplace chaos with no help from Liz's loose-cannon stars Tracy Jordan and Jenna Maroney (Tracy Morgan and Jane Krakowski) and hapless NBC page Kenneth Parcell (Jack McBrayer). The end result is topless break-dancing, professional tetherball, geriatric kidnapping, bird murder, sexual espionage, Appalachian witchcraft, patricide, gay lion tattoos and important life lessons learned from sasquatches.