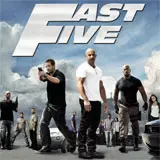 Fast Five continues the Fast & Furious franchsie with Dwayne Johnson coming on board alongside Vin Diesel, Paul Walker, Ludacris, Tyrese and others in the hot cars-turned-heist thriller series.
Universal released Fast Five on Blu-ray and DVD this past week, and we're armed with DVD edition that will be awarded to five winners in this contest. To take a chance at winning Fast Five on DVD, fill out and submit the entry form below. Increase your odds of winning each day you stop back to enter again for as many days as the contest is open.
Vin Diesel and Paul Walker lead a reunion of all-stars from every chapter of the explosive franchise built on speed. Fugitive Dom Toretto (Diesel) partners with former cop Brian O'Conner (Walker) on the opposite side of the law in exotic Rio de Janeiro, Brazil. There they are hunted by a high-powered U.S. strike force led by its toughest Fed (Dwayne Johnson) and an army of corrupt cops working for a ruthless drug kingpin. To gain their freedom and win this ultimate high-stakes race, they must pull off one last job – an insane heist worth $100 million.