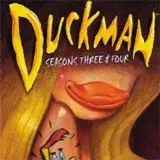 Duckman's four season fun from 1994-1997 is coming to a close on DVD with the recent release of season three and four in a combined package. We have five of these Duckman season three and four DVD sets quacking for a new home.
To enter this contest for a chance to win one of the Duckman DVD sets, fill out and send in the entry form below. You can return every day the contest is running and enter again to increase your odds of winning.
About Duckman: Duckman isn't your average suave, sophisticated private eye. In fact, he's rude, ignorant, slovenly, and hasn't had a date in years! With the help of his infinitely more capable sidekick, Cornfed, Duckman manages to solve enough cases to cover his alimony payments and cable TV bills. Duckman is a cult-favorite animated sitcom from the mid 1990's starring Jason Alexander (Seinfeld) as a crude private detective living with his family in the wake of his wife's death.