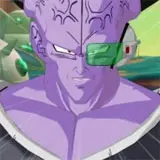 Dragonball Z: Burst Limit marks the series' debut on next-gen Xbox 360 and Playstation 3 consoles. In keeping with tradition, the game features intense fights and an ongoing story that unfolds. The jump to next-gen consoles has opened up the opportunity for online co-op and versus mode battles.
Atari is offering the chance for one lucky winner to take home their choice of Dragonball Z: Burst Limit for either Xbox 360 or Playstation 3. In addition, the winner will also collect some DBZ Burst Limit swag including a T-shirt, Hat & Poster.
To enter for your chance to win the Dragonball Z: Burst Limit promotion, simply fill out and submit the short form below. You can even return each day and enter again to greatly increase your odds of taking home the prize. Good luck!
Dragonball Z: Burst Limit features the detailed graphics and dramatic, seamless battles expected from a next-generation console. During each battle, you will find conditions that create new dramatic scenes with characters and movement reminiscent of the original animation. After the battles, watch a unique story unfold each time you play.
There is also a stronger element of offense and defense, due to added energy saving and fighting techniques. Use of special skills will no longer drain energy. The lower your energy, the stronger you get, making for a possible turnaround of the battle.