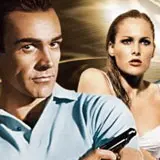 On October 21, classic Bond made its Blu-ray debut in style with re-mastered transfers, lossless audio and numerous HD extras.
Our first two James Bond on Blu-ray contests are currently going strong. For this third one, we've packaged together the final two Bond on Blu-ray titles from the first six released by MGM Home Entertainment: Dr. No with Sean Connery and Die Another Day with Pierce Brosnan and Halle Berry.
To put your name into the pot, fill out all the fields in the form below and send it in. If one entry isn't enough, return each day and enter again as long as the contest is running to greatly increase your odds. Good luck!