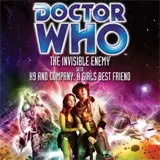 On September 2, BBC Home Video will release two Doctor Who K9 stories in one tidy package with a seriously long name: Doctor Who: The Invisible Enemy & K9 and Company: A Girl's Best Friend. We've got this package to send to one randomly selected winner of this contest.
To enter you'll need to send in the complete entry form below. If you want to increase your odds of being chosen, return each day and enter again as long as the contest is running.
About Doctor Who: In the four-part story, The Invisible Enemy, The Doctor (Tom Baker, Nicholas and Alexandra, Little Britain) answers a distress call from a shuttle crew infected with an intelligent virus. After The Doctor becomes contaminated as well, clones of him and Leela (Louise Jameson, EastEnders) are created to fight the virus. Additionally, the first Doctor spin-off K9 and Company showcases The Doctor's two companions Sarah Jane (Elisabeth Sladen, The Sarah Jane Adventures) and robot K9, as they attempt to solve a bewitching mystery.
This two-disc DVD set is digitally remastered and contains 90 minutes of bonus content including audio commentary with Jameson and Leeson, as well as deleted scenes.