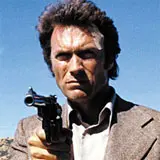 Do you feel lucky, punk? We're giving away one set of the new Dirty Harry Collection on DVD that includes Dirty Harry (two discs), Magnum Force, The Enforcer, Sudden Impact and The Dead Pool valued together at $74.98.
For a chance to take all five of Dirty Harry's films home, simply fill out and submit the form below. We encourage returning each day to enter again which will increase your odds of winning. Good luck!
About The Dirty Harry Collection: Includes all five Dirty Harry films, all special features on the Dirty Harry Special Edition and Deluxe Editions.