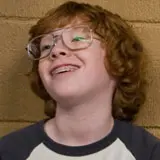 Now available on Blu-ray Combo Format with DVD from Fox Home Entertainment is the hit family film Diary of Wimpy Kid.
We've teamed up with Fox to offer five lucky readers to score Diary of a Wimpy Kid on Blu-ray Combo Format. For a chance to win one, please fill out and submit the entry form below. You can optionally return any or every day the contest is open to enter again and increase the odds of being picked a winner each time.
Based on the best-selling illustrated novel by Jeff Kinney, the family comedy Diary of a Wimpy Kid arrives on Blu-ray Disc/DVD Combo Pack and DVD August 3 from Twentieth Century Fox Home Entertainment. The film chronicles the adventures of wisecracking pre-teen Greg Heffley, who must somehow survive the scariest time of anyone's life… middle school. Convinced it's the "dumbest idea ever invented," Heffley considers junior high school a place rigged with hundreds of social landmines, not the least of which are wedgies, swirlies, bullies, lunchtime banishment of the cafeteria floor and a festering piece of cheese with nuclear cooties that he must overcome to become popular. His diary — or "journal" — chronicles his thoughts, tales of family trials and tribulations, and (would be) schoolyard triumphs.