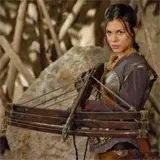 Werewolf The Beast Among Us is the latest direct-to-video monster film from Universal Studios Home Entertainment that is now available to purchase on Blu-ray and DVD. The film is set in a 19th Century European village that a werewolf is stalking and werewolf hunters have been called in to deal with the situation.
Thanks to Universal we have five copies of the Werewolf The Beast Among Us Blu-ray and DVD combo pack to award in this contest. For a chance to win one, please fill out and submit the short entry form below. Increase the odds of winning any or every day you stop back to enter again for as many days as the contest is open. You must reside in the United States or Canada to participate.
A monstrous creature terrorizes a 19th Century European village by moonlight and a young man struggles to protect his loved ones from an unspeakable scourge in Werewolf: The Beast Among Us, Universal Studios' all-new addition to its time-honored legacy of classic monsters. During his studies with the local doctor (Stephen Rea), Daniel (Guy Wilson)witnesses the horrific consequences of werewolf attacks. Watching as the beast's fearsome reputation draws bounty hunters, thrill seekers and charlatans to the tiny town, Daniel dreams of destroying the ruthless predator. So when a mysterious stranger (Ed Quinn) and his team of skilled werewolf hunters (Stephen Bauer, Adam Croasdell) arrive to pursue the monster, he offers to join them, despite his mother's (Nia Peeples) protests. But it soon becomes clear that this creature is stronger, smarter and more dangerous than anything they have faced before. As casualties mount and villagers see their neighbors transformed into ravening monsters, the townsfolk take up arms against each other to find the true identity of the werewolf. Amid the hysteria, Daniel begins to suspect he's closer to his target than he ever dreamed.

Bonus features include behind-the-scenes footage, exclusive documentaries and filmmaker commentaries.