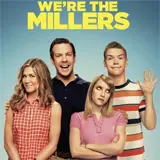 Are you looking for some genuine laughs and vulgarity this holiday season? If so, Warner's freshly released We're the Millers starring Jennifer Aniston, Jason Sudeikis, Emma Roberts, Will Poulter and Ed Helms on Blu-ray and DVD combo is just the ticket you've been waiting for. It just so happens we have three copies of this hilarious new home video release up for grabs in this contest, so by all means, join in and take a shot at winning one.
To enter for a chance to win We're the Millers on Blu-ray and DVD combo, please fill out and submit the short entry form below. The odds of winning can be increased each and every day you stop back to enter again for as many days as the contest is open. You must be a resident of the U.S. or Canada to enter.
David Burke (Sudeikis) is a small-time pot dealer whose clientele includes chefs and soccer moms, but no kids-after all, he has his scruples. After his stash and his cash are stolen, leaving him in major debt to his supplier, Brad (Ed Helms), he must become a big-time drug smuggler by bringing Brad's latest shipment in from Mexico. One fake wife, two pretend kids and a huge, shiny RV later, the Millers are headed south of the border for a Fourth of July weekend that is sure to end with a bang.