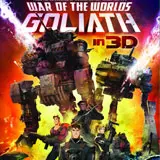 War of the Worlds Goliath has freshly arrived on Blu-ray 3D and Blu-ray combo pack, bringing the award-winning steampunk animated adventure to home video for the first time.
Thanks to Anderson Digital & Barking Cow Media Group, we have one copy of the War of the Worlds Goliath Blu-ray 3D and Blu-ray combo pack that is up for grabs in this contest. For a chance to win it, please fill out and submit the short entry form below. The odds of winning can be increased each and every day the contest is open. You must be a resident of the U.S. or Canada to enter.
In a parallel universe, World War One is imminent as we follow the gripping story of human resistance fighters who march to battle against the second invasion of the Martians. In 1899, the Earth was attacked by ruthless invaders from the planet Mars. The Martians' 80 ft tall, heat-ray spewing, Tripod battle machines laid waste to the planet, but the invaders ultimately fell prey to Earth's tiny bacteria. Fifteen years later, Man has rebuilt his shattered world, in large part by utilizing captured Martian technology. Equipped with giant, steam-powered Tripod battle machines, the international rapid reaction force is Mankind's first line of defense against the return of the rapacious Martian invaders. And return the Martians do. The rematch finds the multinational battle squad tripod "Goliath" on the front lines of a vicious interplanetary offensive. This time the Martians are using even more advanced alien technology. In the crucible of combat, the young crew helming the mighty Goliath will be tested to the limits of their endurance and courage as they fight for Mankind's very survival under the onslaught of an implacable enemy.