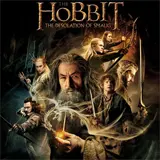 Peter Jackson's The Hobbit: The Desolation of Smaug has made its Blu-ray, DVD and Digital HD debut, introducing the arrogant dragon Smaug into the middle earth universe. Thanks to Warner Home Video we have three copies of the Blu-ray, DVD and Digital HD version of The Desolation of Smaug up for grabs in this contest.
For a chance to win one of the Smaug prizes, please fill out and submit the short entry form below. The odds of winning can be increased each and every day you stop back to enter again for as many days as the contest is open. You must be a resident of the U.S. or Canada to enter.
The Hobbit Bilbo Baggins, the Wizard Gandalf and 13 Dwarves, led by Thorin Oakenshield, continue their journey to reclaim the Dwarf Kingdom of Erebor. Along the way, they encounter the skin-changer Beorn; giant Spiders of Mirkwood; Wood-elves led by Legolas, Tauriel and King Thranduil; and a mysterious Man named Bard, who smuggles them into Lake-town. Finally reaching the Lonely Mountain, they face their greatest danger – the Dragon Smaug.