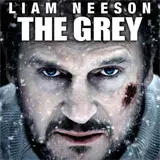 On May 15, Liam Neeson will square off against a pack of territorial wolves in Universal's Alaskan thriller The Grey on Blu-ray and DVD.
Thanks to Universal we are going to award five lucky readers a copy of The Grey on Blu-ray and DVD combo pack. You can take a shot at winning one by completing and submitting the entry form below. Increase the odds of winning each day you stop back to enter again. The more days you stop back to enter, the greater the odds of being picked. You must be a resident of the U.S. or Canada to enter.
Liam Neeson (Schindler's List, Taken) stars as the unlikely hero Ottway in this undeniably suspenseful and powerful survival adventure. After their plane crashes into the remote Alaskan wilderness, a roughneck group of oil drillers is forced to find a way back to civilization. As Ottway leads the injured survivors through the brutal snow and ice, they are relentlessly tracked by a vicious pack of rogue wolves that will do anything to defend their territory.