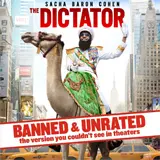 Tonight is the second Presidential Debate and wouldn't you know it, General Aladeen has passed along a letter wishing Mitt Romney good luck with what could be a pivotal night that helps determine the election result. He was also kind enough to pass along three copies of The Dictator on Blu-ray, each autographed by writer/star Sasha Baron Cohen, that we are giving away in this Presidential Debate-themed contest.
For a chance to win The Dictator signed by Sasha Baron Cohen on Blu-ray, please fill out and submit the short entry form below. The odds of winning can be increased each day you stop back to enter again for as many days as the contest is open. You must be a resident of the U.S. or Canada to be eligible to win.
The creators and star of Borat bring you the jaw-dropping comedy about what happens when the world's worst dictator comes to America. Stuck in New York and stripped of his power, Aladeen (Sacha Baron Cohen) is finally forced to live his ultimate nightmare… the American dream.