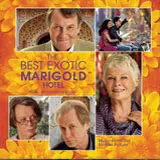 The Best Exotic Marigold Hotel and its look at a group of British former workers who decide to outsource their retirement to India scored an impressive 77% approval rating at Rotten Tomatoes and is now available to own on Blu-ray and DVD.
Thanks to Fox Home Entertainment, we are going to award two winners the Blu-ray edition of The Best Exotic Marigold Hotel starring Judi Dench, Maggie Smith, Bill Nighy and Tom Wilkinson, along with a Lonely Planet India Guidebook, which will be quite relevant after watching the film. For a chance to win, please fill out and submit the entry form below. The odds of winning can be increased each day you stop back to enter again for as many days as the contest is open. You must be a resident of the U.S. or Canada to enter.
The Best Exotic Marigold Hotel follows a group of British retirees who decide to "outsource" their retirement to less expensive and seemingly exotic India. Enticed by advertisements for the newly restored Marigold Hotel and bolstered with visions of a life of leisure, they arrive to find the palace a shell of its former self. Though the new environment is less luxurious than imagined, they are forever transformed by their shared experiences, discovering that life and love can begin again when you let go of the past.