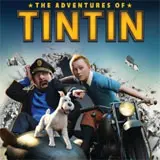 The visually amazing Steven Spielberg and Peter Jackson collaboration The Adventures of Tintin starring the voices and motion capture work of Jamie Bell, Daniel Craig and Andy Serkis is now available on Blu-ray 3D, Blu-ray and DVD.
We're offering two readers a chance to take home the Blu-ray and DVD combo pack version of The Adventures of Tintin that is loaded with bonus features in this contest. For a chance to be one of the lucky winners, please fill out and submit the entry form below. Increase the odds of winning each day you stop back to enter again for as many days as the contest is open. You must be a resident of the United States or Canada to enter.
From Academy Award-winning filmmakers Steven Spielberg and Peter Jackson comes the epic adventures of Tintin. Racing to uncover the secrets of a sunken ship that may hold a vast fortune – but also an ancient curse – Tintin and his loyal dog Snowy embark on an action-packed journey around the world.