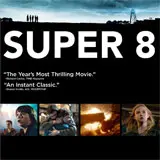 On November 22, the Steven Spielberg and J.J. Abrams collaboration Super 8 starring Joel Courtney, Elle Fanning, Kyle Chandler, Ryan Lee, Riley Griffiths, Gabriel Basso, Zach Mills and Ron Eldard lands on Blu-ray and DVD.
We've teamed up with Paramount Home Entertainment to award three of you a copy of Super 8 on DVD. To enter for a chance to win one, please fill out and submit the entry form below. You can optionally increase your odds of being selected a winner by returning any or every day the contest is open to enter again.
J.J. Abrams and Steven Spielberg join forces in this extraordinary tale of youth, mystery and adventure. Super 8 tells the story of six friends who witness a train wreck while making a super 8 movie, only to discover that something unimaginable escaped during the crash. They soon discover that the only thing more mysterious than what it is, is what it wants.