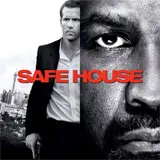 Denzel Washington teaches Ryan Reynolds a thing or two about evading mercenaries in Safe House, the 2012 thriller from director Daniel Espinosa that is coming to Blu-ray and DVD on June 5, 2012.
Universal Studios Home Entertainment has hooked us up with five copies of the Safe House Blu-ray and DVD combo pack that we will be awarding amongst the five winners in this contest. To enter for a chance to win one, you must fill out and submit the short entry form below. Increase the odds of winning each day you stop back to enter again for as many days as the contest is open. You must be a resident of the United States or Canada to participate.
Tobin Frost (Oscar winner Denzel Washington), one of the CIA's most dangerous traitors, resurfaces in South Africa after eluding capture for almost a decade. During his interrogation, the safe house he's being held in is attacked by brutal mercenaries forcing rookie agent, Matt Weston (Ryan Reynolds) to take the infamous Frost on the run. As the masterful manipulator toys with his reluctant protege, shaking the young operative's morality and idealism, the unlikely allies must fight to stay alive long enough to uncover who wants them dead. Packed with intense action and thrilling suspense, Safe House takes you on a deadly ride through a covert world where no one and no place is ever safe.