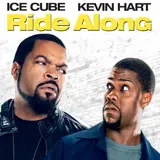 Universal's Ride Along starring Kevin Hart and Ice Cube came out of nowhere in January and exploded at the box office. The hit comedy is set to arrive on Digital HD on April 1 and Blu-ray, DVD and Digital HD combo on April 15.
Thanks to Universal, we are hooking up five lucky readers with the Ride Along Blu-ray, DVD and Digital HD combo pack. For a chance to score some laughs, please fill out and submit the short entry form below. The odds of winning can be increased each and every day you stop back to enter again. In order to be eligible to win, you must reside in the United States or Canada.
For the past two years, high school security guard Ben (Kevin Hart) has been trying to show decorated detective James (Ice Cube) that he's more than just a video game junkie who's unworthy of James' sister. When Ben finally gets accepted into the police academy, James invites him on a ride-along designed to scare the hell out of him and ultimately demonstrate if Ben has what it takes to take care of his sister. But when the wild night leads them to the most notorious criminal in the city, James will find that his new partner's rapid-fire mouth is just as dangerous as the bullets speeding at it. Also starring John Leguizamo and Laurence Fishburne, Ride Along is an action-packed comedy with big thrills and even bigger laughs.