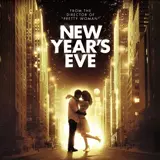 New Year's Eve, director Gary Marshall's sequel to Valentine's Day, is headed to Blu-ray and DVD on May 1, 2012. It's packed with bonus features including a director audio commentary, deleted scenes, gag reel and more. Seemingly half of Hollywood appears in the film including Halle Berry, Jessica Biel, Jon Bon Jovi, Abigail Breslin, Chris "Ludacris" Bridges, Robert De Niro, Josh Duhamel, Zac Efron, Hector Elizondo, Katherine Heigl, Ashton Kutcher, Seth Meyers, Lea Michele, Sarah Jessica Parker, Michelle Pfeiffer, Til Schweiger, Hilary Swank and Sofia Vergara. Phew!
We are giving away three copies of the Blu-ray and DVD combo edition of New Year's Eve in this contest. For a chance to be one of the three winners, please complete and submit the short entry form below. If you need to up the odds, feel free to return any or every day the contest is running to enter again. You must be a resident of the United States or Canada to enter.
Director/producer Garry Marshall brings together an stellar ensemble cast to celebrate love, hope, forgiveness, second chances and fresh starts, in intertwining stories told amidst the pulse and promise of New York City on the most dazzling night of the year.