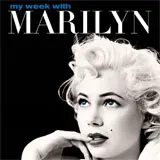 On March 13, the film that earned Michelle Williams a Best Actress Academy Award nomination for her portrayal of Marilyn Monroe, My Week With Marilyn, will debut on Blu-ray and DVD.
Thanks to The Weinstein Company, I have two copies of the My Week With Marilyn Blu-ray and DVD combo pack that also stars Emma Watson and Kenneth Branagh, that will be awarded to two winners in this contest. Please fill out and submit the short entry form below to enter for a chance to win. The odds of winning can be increased each day you stop back to enter again for as many days as the contest is open. You must be a resident of the United States or Canada to enter.
During Marilyn Monroe's (Oscar Nominee Michelle Williams) first trip to London to film "The Prince and the Showgirl," with Sir Laurence Olivier (Oscar Nominee Kenneth Branagh), she befriends Colin Clark (Eddie Redmayne), an ambitious 23 year-old production assistant on the set. As their relationship progresses Colin's focus shifts from making his way in the film business to rescuing her from the pressures of celebrity life. When Monroe's new husband, playwright Arthur Miller, makes a brief trip to Paris, Clark takes the opportunity to introduce her to the world outside of Hollywood fame. Based on the true story by Colin Clark, this memoir describes a magical week in which Monroe opens herself up to a stranger and finds in him a confidant and an ally.