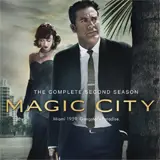 Starz's 1959 Miami mob drama Magic City starring Jeffrey Dean Morgan, Danny Huston, Olga Kurylenko, Jessica Marais, James Caan and Esai Morales was unfortunately cut short after two seasons, but that doesn't mean that the 16 episodes created aren't worth checking out. Those who followed the show loved it, and on November 5, the second season and final eight episodes are coming to Blu-ray and DVD.
We have teamed up with Anchor Bay Home Entertainment to offer five readers Magic City: Season 2 on Blu-ray. You can take a shot at winning one of the sets by filling out and submitting the short entry form below. The odds of winning can be increased each and every day you return to enter again for as many days as the contest is open. You must be a resident of the U.S. or Canada to enter.
MAGIC CITY: THE COMPLETE SECOND SEASON begins as Ike Evans risks everything in a life and death battle to rid his Miramar Playa Hotel of the mob and Ben "The Butcher" Diamond. Ike's dangerous plan to defeat Ben takes Ike from Havana's glamorous casinos to dealings with a new devil – Ben's boss in the Chicago Outfit. Ike's wife Vera gets a second chance at her former dancing glory, while sons Stevie and Danny drift farther from Ike – Stevie toward the power and rewards of Ben's dark world, Danny into the moral righteousness of State's Attorney Jack Klein. Changes in Castro's Cuba ripple to the shores of Miami Beach, and a new world order begins to tear the Evans family apart. Even if Ike's long-shot gamble to take back his hotel succeeds, will the price of victory be too high?

Bonus features:

The Gamble For Havana
The Criminal Element
Tales From The Underbelly
Magic City Style
The Music That Makes Magic
Here's the Magic City: Season 2 premiere episode (censored) in its entirety.