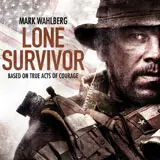 Director Peter Berg's intense war thriller Lone Survivor is based on the true story of four Navy SEALs faced with an impossible decision deep behind enemy lines. Starring Mark Wahlberg, Taylor Kitsch, Ben Foster, Emile Hirsch and Eric Bana, Lone Survivor makes its Blu-ray and DVD debut on June 3.
To compliment the upcoming home video debut of Lone Survivor, we have teamed up with Universal Studios Home Entertainment to offer five lucky readers the Blu-ray, DVD and Digital HD combo of the film. For a chance to win one of these great prizes, please fill out and submit the short entry form below. The odds of winning can be increased each and every day you stop back to enter again for as many days as the contest is open. You must be a resident of the U.S. or Canada to enter.
Based on The New York Times bestselling true story of heroism, courage and survival, Lone Survivor tells the incredible tale of four Navy SEALs on a covert mission to neutralize a high-level al-Qaeda operative. The four men must make an impossible moral decision in the mountains of Afghanistan that leads them into an enemy ambush. As they confront unthinkable odds, the SEALs must find reserves of strength and resilience to fight to the finish. Academy Award nominee Mark Wahlberg (The Fighter) leads an all-star cast including Taylor Kitsch (Savages), Ben Foster (3:10 to Yuma), Emile Hirsch (Into the Wild), and Eric Bana (Munich).