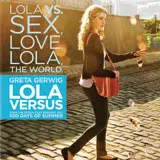 The romantic comedy Lola Versus is headed to Blu-ray and DVD on September 11. The coincide with the film's Blu-ray and DVD debut, we have teamed up with Fox Home Entertainment to offer two lucky readers a chance to win a copy of Lola Versus on Blu-ray in this contest.
For a chance to win Lola Versus on Blu-ray, please fill out and submit the short entry form below. If you want to increase your odds of being selected one of the two winners, return any or every day the contest is open and enter again. Each additional entry will up the odds. You must be a resident of the U.S. or Canada to enter.
Greta Gerwig sparkles in this offbeat romantic comedy about looking for answers – and finding yourself – in a complicated world. When 29-year-old Lola (Gerwig) is dumped by her fiance Luke (Joel Kinnaman) just three weeks before the wedding, she embarks on an emotional, year-long adventure of self-discovery filled with love, loss, hilarity and heartache. Guided (and often misguided) by the well-meaning advice of her close friends and eccentric parents, Lola's chaotic journey en route to the big 3-0 proves that a single tumultuous year can yield the lessons of a lifetime.

The Blu-ray includes these bonus features: Outtakes, Audio Commentary with Daryl Wein and Zoe Lister-Jones, Deleted Scenes and Alternate Ending, Greta Gerwig: Leading Lady, The Filmmakers, World Premiere, In Character with Greta Gerwig, Theatrical Trailer.