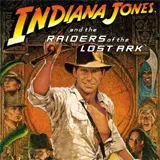 One of the greatest films of all time and certainly one of, if not the best adventures of all time, Steven Spielberg's Indiana Jones and the Raiders of the Lost Ark starring Harrison Ford is now finally available to purchase on Blu-ray as a standalone release, along with Temple of Doom and The Last Crusade, each including a Digital HD copy. Of the three Raiders the big one, and that's why we have teamed up with Paramount Home Entertainment to offer three lucky readers a copy of Indiana Jones and the Raiders of the Lost Ark on Blu-ray in this contest.
You don't even have to like snakes to enter for a chance to win. Simply fill out and submit the short entry form below and you're good to go. Better yet, each daily stop back to enter again as long as the contest is open will increase the odds of winning. You must be a resident of the U.S. or Canada to enter.
Get ready for edge-of-your-seat thrills in Indiana Jones and the Raiders of the Lost Ark. Indy (Harrison Ford) and his feisty ex-flame Marion Ravenwood (Karen Allen) dodge booby-traps, fight Nazis and stare down snakes in their incredible worldwide quest for the mystical Ark of the Covenant. Experience one exciting cliffhanger after another when you discover adventure with the one and only Indiana Jones.