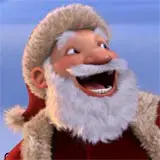 Sid (John Leguizamo), Manny (Ray Romano), Ellie (Queen Latifah), Diego (Denis Leary) and the Ice Age crew are back in a new Christmas special kids will love (trust me; I've already tested it on mine) called Ice Age: A Mammoth Christmas. As an added bonus, included on the disc is a sneak preview clip from next summer's Ice Age: Continental Drift, the fourth feature film in the ongoing series.
Thanks to Fox Home Entertainment, I have two copies of Ice Age: A Mammoth Christmas to award to a pair of lucky winners in this contest. For a chance to win one of them, please fill out and submit the entry form below. You are encouraged to return any or every day the contest is open to enter again and increase the odds of winning.
In Ice Age: A Mammoth Christmas, America's favorite arctic herd is busy decorating for the holiday season. In his rush to help, Sid (John Leguizamo) destroys Manny's (Ray Romano) favorite decorations. Manny is so upset he convinces Sid he is now on Santa's naughty list. Sid, Crash (Seann William Scott), Eddie (Josh Peck) and Peaches (Ciara Bravo) take off for the North Pole to plead their case to Santa (Billy Gardell). Meanwhile, Manny, Ellie (Queen Latifah) and Diego (Denis Leary), worry over Peaches' safety and race to find her. Back at the North Pole, Sid and his crew accidentally destroy Santa's Workshop on Christmas Eve, and it's up to these newfound friends to orchestrate a Christmas miracle. The instant holiday classic, directed by Karen Disher, also features the voice talent of Chris Wedge, T.J. Miller and Judah Friedlander.
Additionally, here's a recipe to go along with the new Ice Age Blu-ray, in stores now.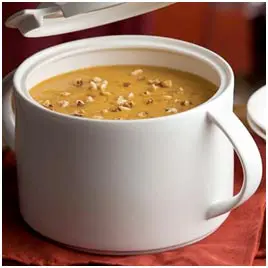 Roasted Pumpkin-Apple Soup
This velvety pumpkin soup is great for cold winter nights, and it's surprisingly easy to make. You need peeled, seeded pumpkin chopped into chunks, tart, cored apples chopped into eighths, olive oil, salt, ground pepper, sage, chicken broth, chopped toasted hazelnuts, and hazelnut oil. Toss the pumpkin, apples, olive oil, salt and pepper, and then roast them at 450°F for 30 minutes. Stir in the sage and roast for 20 minutes more. Transfer this mixture to a blender and puree with the chicken broth until smooth. Then cook over medium-low heat for another 6 to 10 minutes, stirring constantly. Serve with a bit of the chopped hazelnuts and the hazelnut oil for a festive presentation.