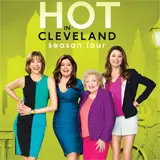 TV Land's comedy series Hot in Cleveland starring Valerie Bertinelli, Jane Leeves, Wendie Malick and Betty White continues to be a big hit for the cable channel, and Season 4 just made its DVD debut on December 3. Thanks to Paramount Home Entertainment, we are going to hook up three readers with the Hot in Cleveland: Season 4 DVD in this contest.
For a chance to win Hot in Cleveland: Season 4 on DVD, simply fill out and submit the short entry form found below. The odds of winning can be increased each and every day you stop back to enter again for as many days as the contest is open. You must be a resident of the U.S. or Canada to enter.
In the fourth season, Valerie Bertinelli, Jane Leeves, Wendie Malick and Betty White all reunite with some familiar faces from their family, career and love lives, including the highly-anticipated Mary Tyler Moore Show reunion with Valerie Harper, Cloris Leachman and Georgia Engel. Whether they're caught in a love triangle at their new job, landing major movie roles or preparing for a wedding (hush hush) these four fabulous women make Cleveland the hottest destination on DVD. The season features additional outstanding guest appearances by William Shatner, Carol Burnett, Regis Philbin and more, plus, don't miss the show's first-ever fully LIVE episode, It's Alive!