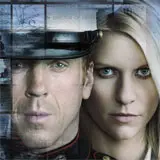 Showtime's Homeland starring Claire Danes, Damian Lewis and Morena Baccarin is a little more than a month away from kicking off its second season. Did you miss Season 1? Don't worry; we've got you covered.
Thanks to Fox Home Entertainment, we are going to award two lucky readers the Blu-ray version of Homeland: Season 1 that arrives in stores on August 28. The complete first season of Homeland includes all 12 episodes as well as a small collection of bonus features. It's extremely addictive and way too easy to get hooked after just the first episode.
To qualify for a chance to win Homeland: Season 1 on Blu-ray, please fill out and submit the entry form below. The odds of winning can be increased each or every day you stop back to enter again for as many days as the contest is open. You must be a resident of the U.S. or Canada to enter.