History Channel's hit new series is now available to own as Vikings: Season 1 has been released on Blu-ray and DVD. We have teamed up with publisher Fox Home Entertainment to offer two lucky readers the Blu-ray edition of Vikings: Season 1 on Blu-ray in this contest, and you don't need a Ragnar mohawk haircut to win one.
For a chance to score a copy of Vikings: Season 1 on Blu-ray, please fill out and submit the short entry form below. The odds of winning can be increased each and every day you return to enter again for as many days as the contest remains open. You must be a resident of the U.S. or Canada to enter.
Here's a little about aforementioned Ragnar for those of you that haven't caught an episode of Vikings on History Channel yet (Season 2 is on the way, btw). You can also watch fan favorite battle clips from the show here.
In 13th Century Europe, curiosity to explore foreign lands preoccupies the thoughts of central Europeans. The seafaring North Germanic's, or 'Vikings', were particularly enthused by this form of oceanic exploration. Throughout a near 300 years, the Vikings allegedly traded, raided and settled in locations all over Europe. Equipped with crushing boats, heavy armour and gruesome weaponry, the Vikings were a serious force to be reckoned with.
Perhaps one of the most intriguing things about this race of warriors is that they were all essentially illiterate. Consequently, there are no existing literary records illustrating their movements. Foreign lands which witnessed the might and power of the Vikings have however written about their cruel and devastating invasions. Most of our contemporary knowledge of the Vikings has now been founded by European scripture and artistic interpretations of the many Viking assaults. Long after the Viking curtain call, Norse poetry and glamourized short stories (sagas) have consequently shed a little light on the legend.
So with little literary fact to go on, when a talented English screen-writer like Michael Hurst arrives on the scene with an ambition to create a gripping and entertaining TV show, it's fair to say that it won't be easy!
Emmy winner Hurst (The Tudors), attacks the challenge head on by shaping his Norse-y narrative around the legend of Ragnar Lodbrok, a notorious ruler of the Viking age who pillaged and killed his way through Europe before meeting his maker in a giant pit of snakes. He sounds like a nice guy eh?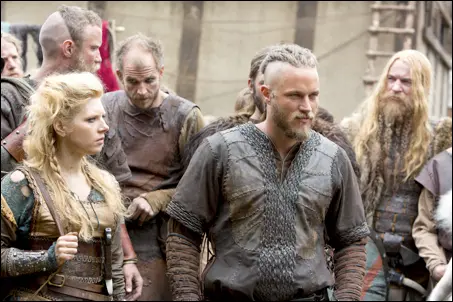 The ultimate question remains; how can you turn an extortionist like Ragnar into an engaging and likable protagonist in an entertainment series? A challenge indeed, but not impossible! Think back to great TV anti-heroes like Tony Soprano for example. Delivered expertly by the late James Gandolfini, audiences couldn't help but feel the love for old Tony despite his murderous and evil actions.