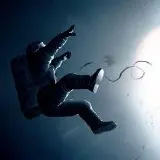 On February 25, one of the best films of 2013 and recicipent of 10 Academy Award nominations, Alfonso Cuaron's ambitious space thriller Gravity starring Sandra Bullock and George Clooney, will debut on Blu-ray 3D, Blu-ray, DVD and Digital HD. Thanks to Warner Home Video we are offering three lucky winners a copy of Gravity on Blu-ray, DVD and Digital HD complete with over three hours of bonus features to marvel at in the comfort of their homes.
For a chance to win Gravity on Blu-ray, DVD and Digital HD, please fill out and submit the simple entry form below. The odds of winning can be increased each and every day you return to enter again for as many days as the contest is open. You must be a resident of the U.S. or Canada to enter.
Gravity stars Oscar winners Sandra Bullock and George Clooney in a heart-pounding thriller that pulls you into the infinite and unforgiving realm of deep space. Bullock plays Dr. Ryan Stone, a brilliant medical engineer on her first shuttle mission, with veteran astronaut Matt Kowalsky (Clooney). But on a seemingly routine spacewalk, disaster strikes. The shuttle is destroyed, leaving Stone and Kowalsky completely alone.