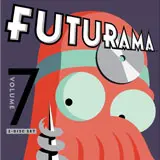 This past week, Futurama returned to home video with the first released featuring episodes from the relaunch on Comedy Central. Volume 7 is a three-disc set full of nearly 300 minutes of Futurama fun.
One lucky reader will score Futurama: Volume 7 in this daily entry contest. Please fill out and submit the short entry form below to put your name in the hat for a chance to win. The odds of winning can be increased each day you stop back to enter again for as many days as the contest is open. You must be a resident of the U.S. or Canada to enter.
Crank up the gravity and put your head safely in a jar! It's Volume Seven of FUTURAMA – the animated sci-fi comedy from The Simpsons creator Matt Groening. Crammed with a whole new dimension of extras not shown on TV, this cosmic collection includes 13 bizarre and brilliant episodes involving ancient prophecies, Presidents' heads, robot gangsters, angry butterflies, and of course, sausage-making. It's a shipload of futuristic fun!