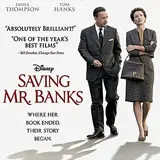 The story of how Mary Poppins jumped from the page to the big screen is told in Disney's Saving Mr. Banks starring Tom Hanks and Emma Thompson. It explores the complicated relationship between Walt Disney and author P.L. Travers, including the upbringing of Travers, that through many trials and hardships finally resulted in the finished film Mary Poppins, for better or worse depending on the point of view. Saving Mr. Banks arrives on Blu-ray, DVD and Digital HD combo on March 18.
We have one copy of Saving Mr. Banks on Blu-ray, DVD and Digital HD combo available to win in this contest. For a chance to be the winner, please fill out and submit the short entry form below. The odds of winning are increased each and every day you stop back to enter for as many days as the contest is open. You must be a resident of the U.S. or Canada to enter.
Tom Hanks and Emma Thompson bring to life the untold true story about the origins of one of the most treasured Disney classics of all time. John Lee Hancock (The Blind Side) directs this acclaimed film that reveals the surprising backstory behind the making of Mary Poppins.

Determined to fulfill a promise to his daughters, Walt Disney (Hanks) tries for 20 years to obtain the rights to author P. L. Travers' (Thompson) beloved book. Armed with his iconic creative vision, Walt pulls out all the stops, but the uncompromising Travers won't budge. Only when he reaches into his own complicated childhood does Walt discover the truth about the ghosts that haunt Travers, and together, they set "Mary Poppins" free.