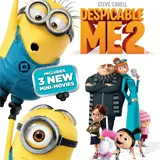 Despicable Me 2 followed in the footsteps of the original at the box office this past summer and put up big numbers with the Minions, Steve Carell and Kristen Wiig leading the way. The sequel will make its Blu-ray and DVD debut on December 10 and bring with it a trio of all-new mini-movies starring those adorable Minions, and we're pleased to be able to hook up three readers with the Blu-ray and DVD combo in this contest.
For a chance to win Despicable Me 2 on Blu-ray and DVD, please fill out and submit the short entry form below. The odds of winning can be increased each and every day you stop back to enter again for as long as the contest is open. You must be a resident of the U.S. or Canada to enter.
Gru, his adorable girls, and the mischievous Minions are back with a cast of unforgettable new characters in the blockbuster sequel to the worldwide phenomenon. Just as Gru has given up being super-bad to be a super-dad, the Anti-Villain League recruits him to track down a new criminal mastermind and save the world. Partnered with secret agent Lucy Wilde, Gru, along with the wildly unpredictable Minions, must figure out how to keep his cover while also keeping up with his duties as a father.