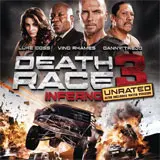 The Death Race franchise speeds into its third installment with Death Race 3: Inferno, makings its direct-to-video debut on January 22. Starring Luke Goss and Danny Trejo, the sequel moves the Death Race to the desert where the stakes are higher and girl fights an alternate spectator sport.
We are awarding five lucky readers a copy of Death Race 3: Inferno on Blu-ray and DVD combo. For a chance to win one, please fill out and submit the short entry form below. You can optionally return any or every day the contest is open to enter again. You must be a resident of the U.S. or Canada to be eligible to win.
Repentant convict Carl Lucas (Luke Goss) – aka Frankenstein – is a legendary driver in the brutal prison blood sport known as Death Race. Only one victory away from winning freedom, Lucas is plunged into his most vicious competition yet: the first ever Desert Death Race. Through South Africa's infernal Kalahari Desert, Lucas is pitted against ruthless adversaries and powerful forces at work behind the scenes to ensure his defeat. Also, starring Danny Trejo and Ving Rhames, Death Race 3: Inferno is an insane, action packed thrill-ride. Bonus features include an alternate opening, deleted scenes, filmmaker commentary and more.