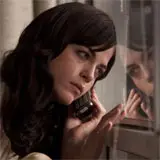 Coming March 6 to Blu-ray and DVD is Columbus Circle, a new direct-to-video thriller starring Selma Blair, Jason Lee and Giovanni Ribisi.
Thanks to Universal Studios Home Entertainment, we have an extra copy of Columbus Circle on Blu-ray that will be awarded to one lucky reader. For a chance to take home the prize, please fill out and submit the entry form below. You can optionally increase the odds of winning each day you stop back to enter again for as many days as the contest is open. Good luck!
Abigail Clayton (Selma Blair) lives alone. Very alone. In fact, the heiress has not left her Manhattan apartment for almost two decades. When the death of her elderly neighbor prompts NYPD Homicide Detective Frank Giardello (Giovanni Ribisi) to launch an investigation, the agoraphobic Abigail is distressed to find him outside her door, questioning her. Having tried to acquire the now vacant apartment to ensure her privacy, Abigail is further upset when new tenants Lillian (Amy Smart) and Charlie (Jason Lee) move in. Abigail anxiously monitors her new neighbors from the safety of her front door's peephole, but her well-ordered world begins to unravel when she finally encounters Lillian and Charlie face-to-face and her sheltered existence becomes threatened in unexpected and terrifying ways.