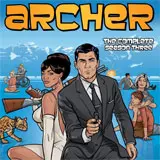 Archer is back to give espionage a bad name in Archer: Season 3, set to make its Blu-ray and DVD debut on January 8.
Thanks to the fine folks at Fox, we have one copy of Archer: Season 3 on DVD that is up for grabs in this contest. For a chance to win it, please fill out and submit the short entry form below. The odds of winning can be increased each or every day you stop back to enter again, so please do! You must be a resident of the U.S. or Canada to enter.
Join suave master spy Sterling Archer and his team at ISIS for another hilarious season of over-sexed, hard-drinking espionage and insanity! With a crisis brewing aboard the international space station, Earth may be doomed, but the world's most dangerous secret agent has bigger worries. Archer's dead fiancee returns to life as a cyborg. His nemesis, Bionic Barry, takes over the KGB, and Archer's mother has steamy affairs with both the Italian prime minister and Archer's man-crush. Packed with outrageous operations and irreverent intrigue, Season Three comes armed to the teeth with exclusive, highly classified animated extras.