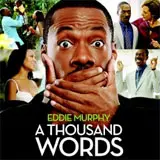 On June 26, Paramount Home Entertainment is releasing Eddie Murphy's A Thousand Words on Blu-ray and DVD for the first time. The film Eddie plays Jack McCall, a man who loves to talk but only has 1,000 words left to speak.
To coincide with the A Thousand Words home video debut, we are giving away a pretty sweet Eddie Murphy-themed Blu-ray prize pack. One lucky reader will get to take home all the following films on Blu-ray: A Thousand Words, Trading Places, Beverly Hills Cop, 48 Hours, Coming to America, Dreamgirls, and Imagine That.
For a chance to win the Eddie Murphy Blu-ray prize pack, please fill out and submit the entry form below. You can increase the odds of being chosen the winner each day you stop back to enter again for as many days as the contest is open. You must be a resident of the U.S. or Canada to enter.