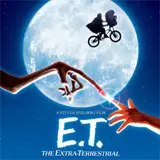 Steven Spielberg's classic E.T. The Extra-Terrestrial has finally made its Blu-ray debut in a combo pack configuration that also includes the DVD. The first foray for everyone's favorite Reese's Pieces loving visitor from another world into high definition is the true original theatrical cut without the removal of FBI firearms that came at a later date.
To commemorate the return of E.T. The Extra-Terrestrial to home video, we are offering five lucky readers the E.T. The Extra-Terrestrial Blu-ray and DVD combo pack as well as the E.T. The Extra-Terrestrial from Concept to Classic 30th Anniversary Book as a prize in this contest. For a chance to win this cool E.T. prize pack, please fill out and submit the short entry form below. You can optionally return any or every day the contest is open to enter again and increase the odds of winning with each additional entry. You must be a resident of the U.S. or Canada to enter.
E.T. The Extra-Terrestrial, Academy Award-winning director Steven Spielberg's magical adventure, celebrates its 30th Anniversary with its first-ever release on Blu-ray October 9, 2012. Featuring an all-new, digitally remastered picture that delivers six times the resolution of DVD, as well as all-new 7.1 surround sound, the E.T. The Extra-Terrestrial Anniversary Edition Blu-ray Combo Pack includes the 1982 theatrical movie, an all-new interview with director Steven Spielberg, and "The E.T. Journals" featuring never-before-seen footage from the set of the film. The Blu-ray Combo Pack also includes UltraViolet, a DVD and a Digital Copy of the film, offering fans a chance to relive the mystery, laughter and wonder of the iconic movie anytime, anywhere on the platform of their choice.