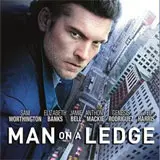 On May 29, Summit Entertainment will debut the thriller Man on a Ledge starring Sam Worthington, Elizabeth Banks, Jamie Bell, Anthony Mackie, Edward Burns, Titus Welliver, Genesis Rodriguez, Kyra Sedgwick and Ed Harris on Blu-ray and DVD.
Thanks to Summit we have one prize pack up for grabs that includes Man on a Ledge on Blu-ray, a black baseball cap with the Man on a Ledge logo, and a black coffee tumbler with the Man on a Ledge logo. For a chance to win this prize pack, please fill out and submit the entry form below. You can return any or every day the contest is open to enter again and increase the odds of winning with each additional entry. You must be a resident of the United States or Canada to enter. Good luck!
Man on a Ledge stars Sam Worthington as Nick Cassidy, an ex-cop who escapes from prison to plan the ultimate heist: steal a $40 million diamond from a cutthroat businessman, and in the process prove his innocence.