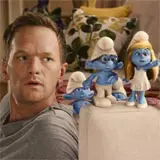 The Smurfs starring Neil Patrick Harris, Sofía Vergara, Jayma Mays, Hank Azaria and Tim Gunn have invaded home video after a fantastic run at the box office, and we've teamed up with Sony Pictures to offer one lucky reader a chance to take home The Smurfs on Blu-ray 3D, Blu-ray 2D and DVD combo pack in this contest.
For a chance to win The Smurfs, please fill out and submit the entry form below. You can optionally return any or every day the contest is running to enter again for as many days as the contest is open. The more entries, the greater the odds of being selected a winner.
When the evil wizard Gargamel chases the tiny blue Smurfs out of their village, they tumble from their magical world and into ours – in fact, smack dab in the middle of Central Park. Just three apples high and stuck in the Big Apple, the Smurfs must find a way to get back to their village before Gargamel tracks them down.